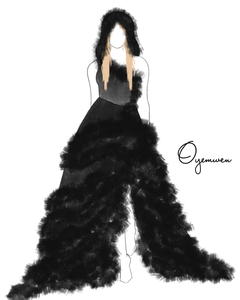 Introducing our Exclusive Celebration Package:
The Perfect Ensemble for Special Occasions!

Celebrate your most cherished moments in style with our all-inclusive Celebration Package. This exceptional offering includes two stunning dresses, tailor-made for a range of special occasions, ensuring that you always look and feel your best.

For Weddings:
Walk down the aisle with grace and elegance in a breathtaking wedding dress that captures your unique vision. After the ceremony, transition seamlessly into the reception with a captivating dress that embodies celebration and joy. Each dress will be meticulously crafted to accentuate your beauty and make you feel like the radiant bride you've always dreamed of being.

For Birthdays and More:
Make a grand entrance on your birthday or any other special occasion with a captivating dress that showcases your personality and style. Whether it's a milestone birthday, anniversary celebration, or any other noteworthy event, our dresses will help you stand out and create unforgettable memories.

The Process:
As part of our Celebration Package, you will have the exclusive opportunity to engage in a 30-minute to 1-hour consultation with our esteemed brand designer, Oyemwen. With her extensive expertise and creative vision, Oyemwen will personally guide you through the design process, ensuring that your dresses reflect your unique style and vision. This personalized consultation will allow you to collaborate directly with our renowned designer and bring your dream dresses to life.

To streamline the process and provide you with the utmost convenience, we will send you pictures and videos of the completed garments for your final approval. This allows us to maintain the highest standards of craftsmanship while ensuring your satisfaction with the final product.

Please note that due to the personalized nature of our garments, we require a booking in advance, as the creation process takes approximately 2 months. By securing your spot early, we can guarantee ample time for design, production, and any necessary alterations.

Embrace the magic of your special moments with our Celebration Package. At Oyemwen, we are dedicated to exceeding your expectations and ensuring your absolute satisfaction. Let us create dresses that will make you feel extraordinary, capturing the essence of any special occasion.

Book your appointment now to embark on an exciting journey of creating unforgettable dresses that will elevate your special moments to new heights. Contact us today to secure your consultation and begin the process of bringing your dream dresses to life.